Car Show and Cruise Weekend
To download our PDF poster
To download our PDF Cruise Route Map
Cruisin the Valley Car Show and Cruise
Comox Valley Classic Cruisers
32st Annual Car Show 2018
Cruise Nite  Saturday July 28th
Show & Shine Sunday July 29th
Touch a Truck Sunday July 29th
General
Information for Show & Shine Registered Participants
Comox Valley Exhibition Grounds
4839 Headquarters Rd, Courtenay, BC V9J 1P2
Open Event, all classes including motorcycles
Dash plaques
Trophies
At show registration $20.00
Saturday
July 28, 2018
5:00pm to 7:00pm Cruise-In at the Comox Valley Exhibition Grounds.
Golden Oldies music.
7:00pm cruisers leave the Exhibition grounds for a cruise of the Comox Valley.
Cruise ends back at the Exhibition Grounds with the 50's Dance featuring Kenny Show and the Kruisers.
Note that the cruisers will travel in one directions along the cruise route. Hard copy maps will be given to each cruiser prior to the cruise Estimated Cruise route time 1 1/2+ hours
Sunday
July 29, 2018
Pancake Breakfast and More 7:00am – 10:00am
Registration 7:00am – 10:00am
Trophy presentations Approx. 2:30pm
Car Show opens to the public at 10:00am
Many Food Vendors on site, both days
Note: Due to Insurance and Safety considerations entrants may NOT remove their show vehicles until directed by the organizers AFTER the trophy and prize presentations.
Instructions
To Registrants
We have gone "OLD SCHOOL" and no pre-registration just pay at the gate the day of the show,  $20.00 to support our Bursary fund. This also includes the Swap Meet attendees.
Important
Comox Valley Classic Cruisers liability insurance requires participant's vehicles to remain in the designated show area until 3:00pm or completion of awards, whichever is later. Except in emergency, participant's vehicles will not be allowed to move until spectators have thinned sufficiently to permit safe vehicle exit from the designated show area. Permission in such emergency and at show end shall be at the sole discretion and direction of the Comox Valley Classic Cruisers show officials.
The CVCC Car show is on July 24th at Lewis Park starting at 10:00. All vehicles can start arriving at 8AM
Starting from Small Road and ending at the A&W on Ryan Road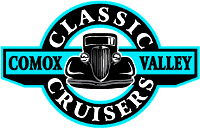 Comox Valley Classic Cruisers
P.O. Box 3122
Courtenay, B.C.
Canada V9N 5N4
Phone: Rick Robinson 250-897-2214