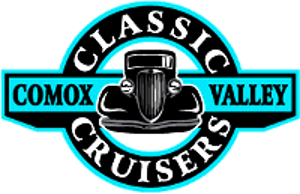 Weekly Cruise-ins
Every Thursday during the Summer months members and non-members gather for a cruise-in, gab session, a burger, and too much coffee at the A&W on Ryan Road, across from Super Store in Courtenay. The cruise-in starts at around 5:30/6:00pm.
Join us every Thursday all summer long.
Car Show and Cruise of the Valley
Please note our 2020 Car show has been cancelled.
Our car show will be back in 2021

The Comox Valley Classic Cruisers annual car show July 25th, 2021 is an open event, open to all vehicles and this year it all happens in Lewis Park, a beautiful riverfront park, close to downtown Courtenay.
 We will have pre registration on line early 2021 
The cruise through the valley will be held Saturday, July 24th 2021. Our Cruise will be Leaving from the Vancouver Island Visitor Centre at 7PM and ending at the A&W on Ryan Road. The traditional route will be used. More details on the car show and cruise will be available closer to the actual date.
Click to see the images from 2019 Saturday Night
All year long Cruisin Together
All year long the Comox Valley Classic Cruisers like to go for cruises up and down Vancouver Island. From Restaurants for breakfast, lunch and dinner and to attractions of all kinds and helping out in the community.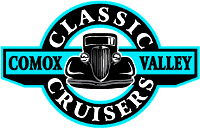 Comox Valley Classic Cruisers
P.O. Box 3122
Courtenay, B.C.
Canada V9N 5N4
Phone: Rick Robinson 250-897-2214