Swap Meet Postponed
Comox Classic Cruisers, in response to the ongoing corona virus pandemic, has
postponed the Swap Meet at this time
.
The possible date being worked on to postpone to is Sunday, June 7. 
This is a day by day, work in progress. As we go through this pandemic.
Food Trucks on site as well as an A.T.M. and access to WiFi.
On Sunday, May 3rd, our volunteers will open the grounds for vendors and Show and Shine cars at 6:00 am.
All Vendors must be in place by 9:00 am for the General Public.
For all out door stalls please pay as you enter the day of the event. We now have an unlimited number of outdoor stalls.
Inside Vendors:
Set-up for inside vendors is Saturday May 2nd, from 12:00 noon to 6:00 pm.
There are no vehicles allowed in the curling rink, you must supply your own dollies, carts etc.
Parking on the morning of the 3rd is immediately south of the curling rink, please come early.
Stalls Rentals
10′ x 10′ $20.00  Any Large Size $40.00. Table are available for $5.00 each.
Our volunteers will open the gate at 6:00 am, Sunday, May 3rd, please be ready for 8:00 am.
Entrance for the puplic is by donation
Questions,   
Mike Trimble
Comox Valley Classic Cruisers
Swap Meet Coordinator
250-792-1807 – cell
mike@woofys.ca
or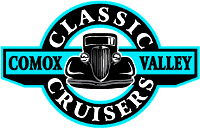 Comox Valley Classic Cruisers
P.O. Box 3122
Courtenay, B.C.
Canada V9N 5N4
Phone: Rick Robinson 250-897-2214